WANT TO BUY EARLY?
Unlock 30 minutes early on our mailing list
It is time
by Dianita
 "The portal opens again. She knows they're eager for their trip, they  always are. She grabs one of the orange flowers, cempasuchil or marigold  as it's known as well, and as her hand starts glowing in a soft light  the flower is suspended in the air. There's movement in the petals, as  if they were alive and suddenly waking up from a deep slumber.
A  little pair of petals separates from the flower but they don't fall.  Instead it starts transforming into a monarch butterfly that softly  lands on her finger as she looks at the rest of the petals, no, the  butterflies happily starting their long way back home.
"Are you ready my little one? " – she said with a sweet expression on her face – "It is time".
Every year they wake up and fly home, to their loved ones. While she patiently waits for their return.
About this painting.
This painting has been waiting to be finished for more than 2 years. I knew I could do something more for it and I'm really happy to share it with you today and right on time for Dia de Muertos (Day of the Dead).
My family never celebrated it because my Grandpa said that it was "a thing of the devil". I didn't believe that, but I was always extremely scared of having spirits at home and I still am! It's a beautiful celebration that we all try to observe one way or another in Mexico. November 1st and 2nd smell like marigolds, palm leaves, and incense or myrrh and delicious tamales and mole. And in Texas, were I live now, we start seeing monarch butterflies returning home to Mexico.
And I thought: What if Death keeps souls safe during the year, gathered as petals in a marigold? Turning them into monarch butterflies for safe travels to their loved ones and back. She's kind and caring but she can also be terrifying if you look closely.
This painting was created with oil paints on illustration board. And it will ship with this frame.
It measures 8in x 10in and approximately 9in x 10in with the frame.
Ships from the USA. If you're an international customer, please be aware of custom fees in your country for international packages (like VAT in EU).
More ways to collect or support my work:
Latest originals available: https://www.artbydianita.com/available-originalart
Prints and sketches: https://www.artbydianita.com/shop
Patreon: https://www.patreon.com/artbydianita
Size: 8in x 10in

$425 $425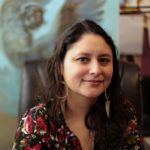 Dianita
Dianita is a fantasy artist born in Veracruz, Mexico. She has found that Fantasy provides her with the perfect language to portray her deepest emotions. It's where she finds freedom to explore fears, hopes and that wish for connection between all living creatures and our world.

Cover artist for Mermaids Monthly magazine (April 2021). Artist for "The Unbridled Spirit Tarot" (Llewellyn, 2024).