Stephanie Inagaki creates hauntingly beautiful black and white drawings collaged with Washi Paper. Join us, as we delve into her world, offering insight into her fascination with Ravens and Crows, and how she alchemizes her multidisciplinary art into her own distinct vision.

1. You describe yourself as a multidisciplinary artist, could you tell us about each of those disciplines and the type of work you do?
I have two full time careers being a fine artist and metalsmith which is under the company name, Miyu Decay. I have both my BFA and MFA in Sculpture but my career path has led me to predominately create drawings. I would love to get back into large scale sculptures but it's been difficult finding galleries for that. (I'm putting the word out there universe!) My sculptures and drawings have always been influenced by personal experiences. There has been quite a bit of trauma so making art is the best way to synthesize those moments from my life. I also make my own costuming as I have been a Middle Eastern dancer for almost half my life and performing necessitated costumes. I sell some of my costume headdresses and fascinators through my jewelry company.  My jewelry is a mixture of the macabre, Old World, and tribal. Most of my pieces are originally hand carved.
2. What does the typical work day look like for Stephanie Inagaki?
Coffee is the first thing that gets made every day! My mornings are spent answering emails, on my social media, and working out. Lunch generally happens next and then I get into the studio for the rest of the day. I usually only focus on one thing at a time so it's split between spending the day working on jewelry orders or drawings for upcoming shows. I take breaks in the afternoon to tend to my garden and play with my zoo menagerie. My boyfriend already had an older white cat, Cotton. When we moved in together we rescued two kitten sisters (Cowboy and Bebop) and two puppy sisters (Klaus and Nomi.)
3. We hear, and even recommend, specialization. Focus your work, break through, then expand. Did you do this? Why or why not? If not, how did you make it work?
I certainly feel focused but I don't necessarily think I've broken through yet, conceptually or careerwise. It has just felt like a constant uphill battle with slight plateaus of regularity. I'll feel like I've broken through to some extent when I don't have to worry about monthly bills. Then onto the next part of this massive mountain! Being a creative as a career is difficult but so rewarding in many different ways. It feeds the soul. I am humbled that I can do this full time and that there are people who appreciate my work. I can't thank my friends and loved ones enough because this isn't easy.
I do agree to some extent in specialization as some days I feel like I wish I could just make fine art. But then I end up missing metalsmithing. I've always had my hand in many pots! I do specialize within each discipline though.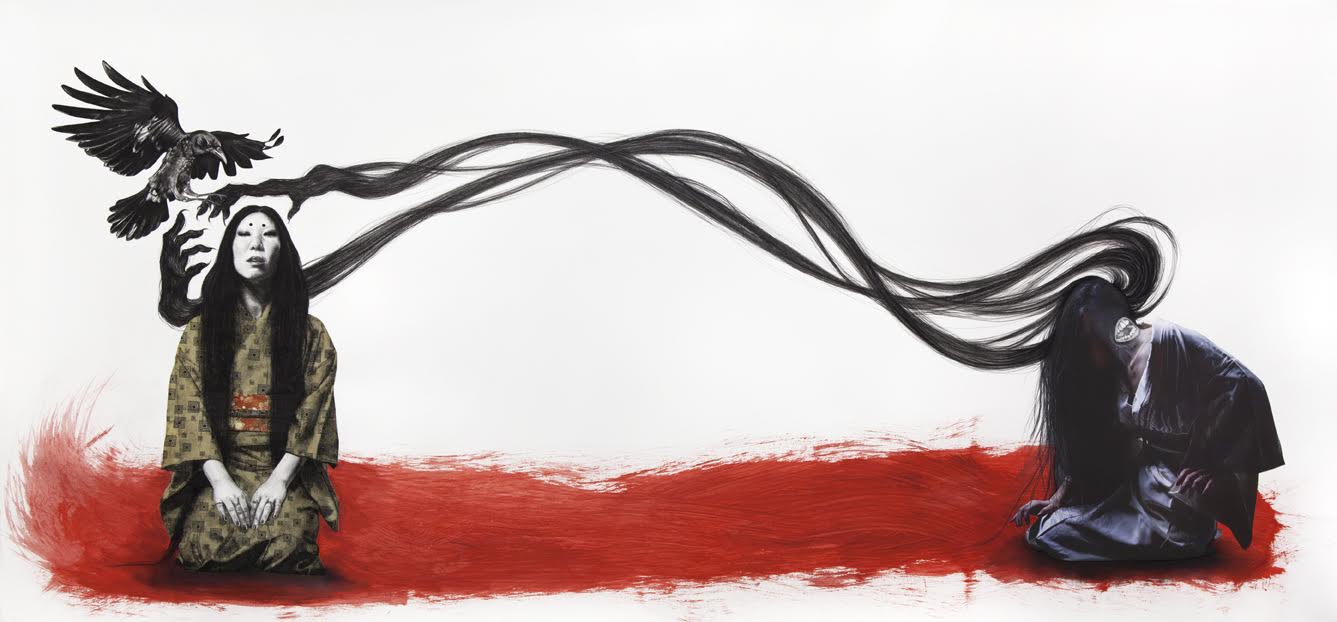 4. How do these disciplines influence the sort of art you do for EDO?
I love the Old World. I amalgamate vintage and antique fabrics, patterns, and jewelry pieces that come from around that world for my costuming that I sell an also incorporate those patterns into the jewelry I sculpt. Since I was buying vintage kimono fabrics, it was a natural transition to buy washi paper that has similar patterning.
5. You're very active, and open on social media. How do you approach social media like instagram and facebook? Do they each serve a purpose?
I had initially kept my Miyu Decay jewelry, art, and personal life separate on social media but I am all those things so I find that it's important that I integrate it, especially since I am my own brand. It all defines who I am and the kind of artwork that I create. By seeing who the creator is, it makes the work more accessible and personable. I'm naturally introverted so having social media has helped me connect with other artists that I admire and respect. I don't think I would have had the guts to approach them in person. Because of this, I make effort in answering any comments on both social platforms.
6. Do you consciously balance the personal vs professional shares you make?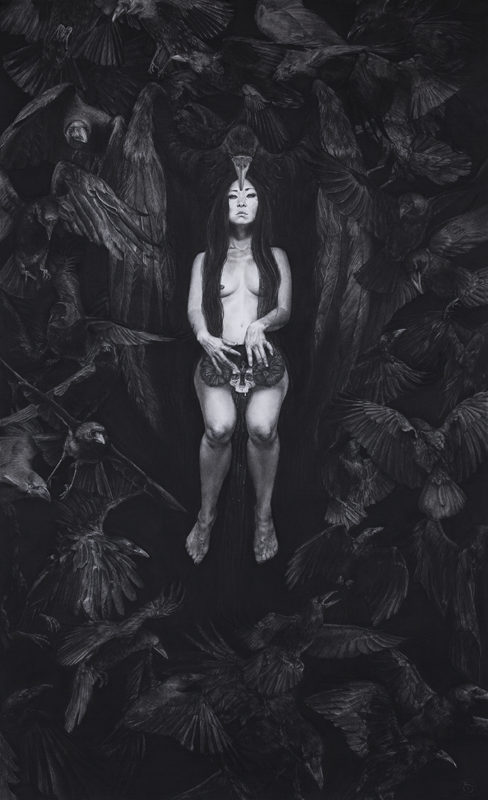 For the most part I do. The only completely private social media account I have is my personal Facebook profile. I'll repost silly animal gifs or social and political posts on that one. My professional art page on Facebook mainly has posts about my art, jewelry, and exhibitions that I am in. Instagram encompasses my career and personal life. It's been more streamlined in that sense.
7. Do you have a general strategy about what to post and when? How did you come to this?
I loosely follow the weekly hashtags like #tbt or #fbf to post older works or detailed crops since not everyone who follows my work has seen it. It's good for the numbers to be consistently posting as well. I've done some research as to what time is best to post too but occasionally it will be sporadic. I tend to be working Friday nights and those posts get a lot of views surprisingly.
8. A lot of your work on EDO features ravens and crows, what draws you to them and their mythology?
They are brilliantly fantastic creatures. One of my past residences had a murder of crows that would always hang out in the parking lot by my house. I'd talk to them and they'd talk back. Sometimes they would sit on my chimney and I'd heard them cackling through the hole, leaving a warm fuzzy feeling inside my heart. I love that they mainly mate for life. If a human or another animal does something good or bad, they're intelligent enough to tell their murder for subsequent generations about those deeds. They represent love and loyalty to me. Crows and ravens, being carrions by nature are directly associated to death. I've always seen life and death as cyclical so death isn't necessarily a negative thing because it leads back to growth and renewal.
9. I've noticed some of your pieces focus on Japanese lore (Ningyo, Nami,) and then use materials like Washi paper. Could you tell us more about that context and relationship to Japan and how it affects your work?
Since I've been creating my own mythology with my self portraiture I was looking to find other influences in my life that I could draw from. Harkening back to my cultural roots seemed like the most natural step since my parents are from Japan. I grew up watching Miyazaki films and other Japanese TV programs that always involved myth and folklore. I watched a lot of horror and sci-fi because my parents never censored what my brother and I wanted to watch. It was great.
On a design standpoint, there is always something so graceful about washi paper design. I use a lot of negative space in my drawings and I find that washi paper can act the same way. I was taught by a traditional paper seller how to sculpt flowers when I told her that I meticulously cut out the patterns but I have yet to make the flowers myself. I love the subtly in the golds of the printed flowers and flatness in color that contrasts my stark black and white drawings.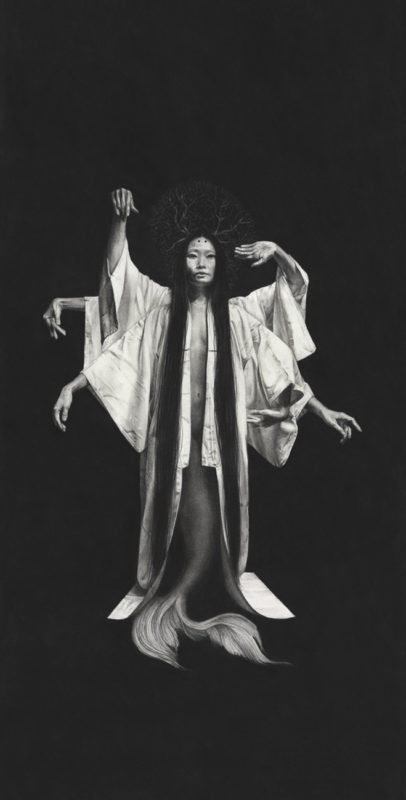 10. On your website you mention returning to your roots in LA, studying abroad in Italy, and living in various US cities. How has this travelling influenced your outlook creatively and personally?
I think everyone needs to travel and see the world. Studying abroad should be a requirement while in school. I was able to live in different parts of our vast country and experience the unique histories that comes along with each city. It was the same abroad. I learned foreign languages which allows a person to understand the world in another conceptual lens other than English. I was able to see incredible art pieces in person that has forever changed me.
11. Favorite restaurant in the world and why.

Union in Pasadena, CA. My boyfriend, David took us there last year for our anniversary. It's now been our go to for special occasions. Everything is freshly made and delectable, the service is always fantastic, and the biggest plus side is that they're extremely careful about his food allergies. He can even have their desserts! They have the best meatballs that are perfectly crisp but succulent on the inside.
12. LA is a hotbed of great artists, too many to list here, and you are friends with many of them. Do you ever work with, or even near them? Tell us more about that, and what it brings to you and your work.
I'm generally solitary when it comes to working but occasionally I will take my drawings with me to work at friends' studios. It simultaneously works as a time to catch up but still be productive as everyone tends to be on deadlines. Mind you, I can only do this with a few friends! It's a bit reminiscent of art school where I had to share studio spaces with friends and colleagues. I am fortunate enough to have a solid group of creative friends that I can still get similar feedback from.
Collaboratively I've worked with Allan Amato on his Temple of Art project and a few other subsequent drawings for myself that came out of that process. Integrating his photography into my work opened up a whole new creative language for me to not only collage with Japanese washi paper, but to add acrylic and watercolor into my predominantly black and white charcoal world.
13. What is your process like for creating your pieces for EDO? (How much is spontaneous vs planned? How do you choose a subject matter? How do you determine pricing? How and when do you share what you're working on?)
I do a fair amount of driving since my parents live close by, but far enough that it warrants an hour drive one way. My framer and printer, Museum Quality Framing is also in my hometown where my parents live. I usually think of my EDO drawings on these drives. It's really meditative for me and when I'm having a creative rut, these drives help me focus in. My drawings are planned. My sketches are extremely rough but I tend to have a solid idea of the composition. I think I'm more spontaneous with placing the washi paper.
Each of my EDO drawings are tiny visual phrases of my overall themes of life/death and living, which involves feeling love and pain. I feel like I still have a lot to explore with integrating color and washi paper so I tend to still focus on crows or folklore.
My pricing is usually determined by the size, but if I spend more time and detailing on a similarly sized piece, I will raise the price.
I'll share details of my EDO drawings when I work on them which can be the week before or even a few weeks prior to my release date depending on when I feel inspired or have the time. They are shared on IG and Facebook.
14. Any final thoughts for our readers?
Thank you for taking the time and interest in my interview and work. I can't do it without you all!