WANT TO BUY EARLY?
Unlock 30 minutes early on our mailing list
The Odyssey
by Nicholas Elias
"But Zeus who marshals the thunderheads insisted,
'Sun, you keep on shining among the deathless gods
and mortal men across the good green earth.
And as for the guilty ones, why, soon enough
on the wine-dark sea I'll hit their racing ship
with a white-hot bolt, I'll tear it into splinters.'"
-The Odyssey (translation by Robert Fagles)
This 9×12″ oil on canvas board is a study in subject matter as part of an ongoing series of works exploring The Odyssey. This particular image is inspired by the text above, in which Calypso is relaying a warning to Odysseus of the fate that awaits him on his voyage. Accepting fate and persisting through it is a recurring theme in this classic Greek myth.
Product Height: 9"
Product Width: 12"
Product Surface / Material: canvas board

$500 $500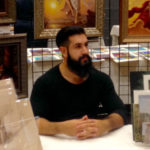 Nicholas Elias
Nicholas Elias is an illustrator currently living in Long Island, New York with his best pal (read: puppy) Lucy. Working primarily in the entertainment and games industries, the fantasy genre provides a perfect umbrella for his focus on narrative and emotional works. Servicing commercial and private clients alike, Nick brings his love of drawing and painting and his passion for history, mythology, and storytelling to each assignment.