WANT TO BUY EARLY?
Unlock 30 minutes early on our mailing list
Circe
by Nicholas Elias
A portrait study of Circe, the cunning and dangerous goddess as seen in Homer's The Odyssey.

In the classic epic, we meet Circe in Book 10 as Odysseus' men enter her hall deep in the woods of Aeaea. She sings sweetly, luring them in like a siren and proceeds to seduce them with wine and food before transforming the men into beasts. Known for her intelligence and mastery of magic and potions, the goddess has been known to outwit both Gods and mortals alike. Only with the help of Hermes does Odysseus manage to resist her magic.
Product Height: 10"
Product Width: 8"
Product Surface / Material: panel

$500 $500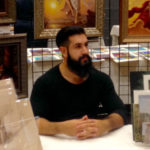 Nicholas Elias
Nicholas Elias is an illustrator currently living in Long Island, New York with his best pal (read: puppy) Lucy. Working primarily in the entertainment and games industries, the fantasy genre provides a perfect umbrella for his focus on narrative and emotional works. Servicing commercial and private clients alike, Nick brings his love of drawing and painting and his passion for history, mythology, and storytelling to each assignment.