WANT TO BUY EARLY?
Our collectors get 30 minutes to buy before anyone else.
Serenity
by KaitlundZupanic
"Those who don't believe in dragons will never find them. They soar at heights most fear to go, bringing solace to those who seek them."
Dragons, are naturally fierce and formidable predators, often carrying a haunting ethereal beauty. Frequently they are hunted, trapped, and killed for their hoard or valuable scales to make armor. Regardless, they are a sight to behold from a distance if the fates are on your side.
As a species, they have endured great sorrow and strife. Thankfully it has left dragons capable of great kindness to those less fortunate and in need. Therefore, dragons, above all, protect those who cannot defend themselves.
Serenity is ready to hang, Blink hardware and Frame included.
Mixed Media, graphite, watercolor, acrylic on Strathmore 400 smooth bristol and mounted to cradleboard and sealed with art resin.
Size: 8"x10" + frame
Medium: graphite, acrylic, watercolor and resin on cradleboard

$375 $375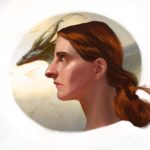 KaitlundZupanic
A fantasy illustrator of the dragon varaity.
EXTENDED GALLERY
Beyond the every day, these are pieces a little bit more than our daily offering.