Floating
by Anthony Palumbo
A watercolor and goauche painting, on 6×8 inch watercolor paper.
The artwork's image size is 5×7 inches, and it is matted, ready to be framed.
Product Height: 7"
Product Width: 5"
Product Surface: Watercolor Paper
Medium: Watercolor and Gouache

$260 $260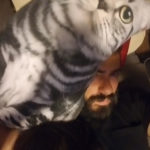 Anthony Palumbo
Anthony grew up in Pennsylvania and works as an illustrator and concept artist for the comic book, gaming, and video game industries. He lives in Philadelphia with his partner in crime, Winona Nelson.