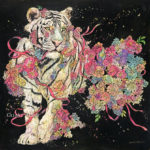 Chiaki Akada
Website | More EDOs
Chiaki Akada is a Japanese painting artist based in Osaka, Japan.
Born and raised in Japan, studied Fine Arts in SUNY Mohawk Valley Community College in NY for two years then back in Japan, then started career as an artist.
Using oil pastel and scratching method, her works is detailed and fulled with the powerful colors.
She creates fantasy but reality, detailed and colorful works, and likes to put conflicting ideas in one piece of work.
Chiaki's Extended Gallery