WANT TO BUY EARLY?
Unlock 30 minutes early on our mailing list
Why do we feel broken if we're made of stars?
by Dianita
Lately I've been thinking how imperfect we feel. We notice every wrong in ourselves and our minds go to the worst possible place. We think that we're so imperfect we shouldn't deserve any kindness or compliment, often forgetting we're so capable of looking at other people with kind eyes.
I've felt like that a lot, I feel broken.
I feel like an unicorn that broke his horn, fearful that the magic is gone, that my whole imagination is lost. But out there, there are wonderful people that remind us who we are. They tell us to remember magic is inside of us, that we're not lost, that we're not broken.
This piece is to remember those people, the ones who remind us that we're full of magic when we feel we're nothing. And very much inspired by Carl Sagan's idea that "we are star stuff".
This painting is made with oils on paper mounted to a cradled wood board.
Size is 8 in x 10 in (15/16 in approx. in depth)
Includes a silver colored frame.
Other ways to support my work:
https://www.patreon.com/artbydianita
Height: 10 in
Width: 8 in
Depth: 15/16 in
Surface: Paper mounted on wooden cradled panel

$375 $375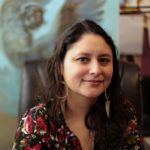 Dianita
Dianita is a fantasy artist born in Veracruz, Mexico, currently living in Texas, and member of the Mexicanx Initiative (2018). She has found that Fantasy provides her with the perfect language to portray her deepest emotions. It's where she finds freedom to explore fears, hopes and that wish for connection between all living creatures and our world.

Cover artist for Mermaids Monthly magazine (April 2021). Artist for "The Unbridled Spirit Tarot" (Llewellyn, 2024).