The stillness between the pages
by Naomi VanDoren
Life has slowed in some ways and I wanted to reflect on the little things in this piece. To celebrate the joy I find in small moments.
A study for a much larger piece.
—
5.5 x 7.5 inches
Mixed Media – Watercolor & archival inkjet on
Arches watercolor paper.
Matted & Framed.
$285 $285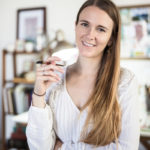 Naomi VanDoren
Naomi is a whimsical artist, author, and a wanderer at heart. Vibrant, natural themes of the outdoors and a love of travel and exploration saturate her work. Having grown up in the Spice Island of Indonesia, she pulls from the rich cultures of South East Asian and Oceana as further inspiration for her work.

Her art revolves around imaginative worlds and reflects a deep desire to explore not only the world she lives in but imaginative ones as well.

Naomi is currently based in Northern California.

Other ways to support my work:
The Art Shop (Prints, Art Books & More): naomivandoren.com/art-shop

Patreon: patreon.com/naomi

Kickstarter (live now): foxdragon.com/launch