WANT TO BUY EARLY?
Our collectors get 30 minutes to buy before anyone else.
The Log Jam, Chapel Falls
by Stephen Sengebush
Wake up early, pack the painting gear, water, and snacks, then drive North out of Williamsburg along Ashfield Road.  It's hot out already and the neon greens of summer are on full display.  The two-lane highway rolls along next to the east branch of the Mill River – destined for the Oxbow and the Connecticut, but now just a small, rocky stream.  Park just before the bridge and hike down into the darkness, where steep ravine walls and tall trees shadow a series of blue cascades.  Perch perilously on a pile of rocks, intrigued by the wild tangle of logs and branches above.  They must have been piled there when the water was higher, jammed together by spring's snow-melt, now bleached and golden in the reflected light of the trickling brook.
The Log Jam, Chapel Falls, is an original oil painting, 9″x12," Oil on Gesso Board, and Framed with 3-5/8″ Wood frame, Black and Gold
Height: 16 Inches
Width: 12 inches
Surface: Gessoed Panel

$270 $270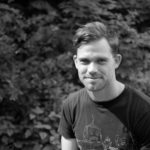 Stephen Sengebush
Stephen is a plein-air and studio painter specializing in landscapes both real and imagined. He can usually be found in the woods of Western Massachusetts at early morning, capturing the interplay of light and shadow as sun filters down into New England's many brooks and cascades.
EXTENDED GALLERY
Beyond the every day, these are pieces a little bit more than our daily offering.