WANT TO BUY EARLY?
Unlock 30 minutes early on our mailing list
The Blanc We Begin With
by Reiko Murakami
Paired with a piece called "The Blanc We Arrive At", this piece explores the idea one's life begins and ends in the same state: nothingness. The inspiration for this series is how sometimes patients with dementia end up losing their ability to speak a second language, as if they are rolling back to the original state in language when they reach the end of their life. Learning this shocked me, being a bilingual person living in a foreign country. Part of me celebrates the momental beauty of life, as described in the concept of Japanese philosophy of mono no aware, but at the same time other side of me wants to believe the blanc we might end up with at the end is still some kind of achievement.
4 inch x 4 inch Mixed media in an approx. 7 inch frame
$270 $270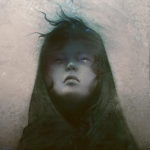 Reiko Murakami
Reiko Murakami, also known as Raqmo is a U.S. based concept artist and illustrator specialized in surreal fantasy and horror characters. Her work has been published in Spectrum, Infected by Art, ArtOrder Invitational: The Journal, Exposé, 2D Artist and many others.

Print shop: https://www.inprnt.com/gallery/raqmo/
Patreon: https://www.patreon.com/reikomurakami