WANT TO BUY EARLY?
Unlock 30 minutes early on our mailing list
Solace
by Kaysha Siemens
The human heart has hidden treasures,
In secret kept, in silence sealed;­
The thoughts, the hopes, the dreams, the pleasures,
Whose charms were broken if revealed.
          —Evening Solace, Charlotte Brontë
Solace is an oil painting on board and measures 5 by 7 inches. She is framed, and the frame measures 7.25 by 9.25 inches total.
Visit my website at www.kayshasiemens.com for prints, additional originals, and other treasures.♥
$390 $390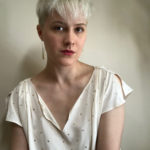 Kaysha Siemens
I was born and raised in Canada, and now make my home near Asheville, NC, USA. My work is primarily figurative and narrative. I work mainly in oil and graphite. My current primary focus is Mnemosyne, an ongoing project inspired by Greek myth.

My goal is the object of beauty, but that goal is achieved through engagement in process, and neither aim is worthwhile without meaning and intention. I seek to talk about the ordinary with the language of story, to arrest with exquisite imagery, and ultimately to leave viewers with a feeling, a lingering sense, that they have had a brush with the sublime.