WANT TO BUY EARLY?
Unlock the Add To Cart button
30 minutes early
Searching
by Ashly Lovett
Our little mermaid searches for tiny bones of the creatures that live in the world above her ocean home. She may have found a new one for her growing collection.
I'm adapting the 1830s story of The Little Mermaid by Hans Christian Anderson. In my story, we will follow a mermaid with glowing white hair who has a fascination for the human soul. The final illustrations will be done in chalk pastel on paper and spot illustrations in graphite. Learn more about it here: AshlyLovett.com/kickstarter
Artwork Size: 7″x10″
Matted with 2″ boarder.
Full Frame Size: 14″x17″
Graphite on paper
$400 $400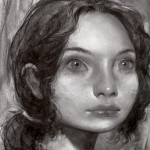 Ashly Lovett
Ashly Lovett is a freelance illustrator and gallery artist working primarily with chalk pastel for the horror and fantasy genre. She is known for her illustrative portraiture with romanticism undertones. She has done licensed work for Jim Henson Company, Adult Swim, Netflix, Focus Features, Archie Comics, and Monty Python, etc. She received her BA in illustration from Ringling College of Art and Design and has been published in Spectrum Fantasy Art Annual 22-27, Society of Illustrators of Los Angeles, Infected by Art Vol 5-7, and more. Clients include Boom! Publishing, Lindstrom LLC., Hackle TV, ArtOrder, etc.
EXTENDED GALLERY
Beyond the every day, these are pieces a little bit more than our daily offering.