WANT TO BUY EARLY?
Our collectors get 30 minutes to buy before anyone else.
Rapid Fire
by Alessandra Pisano
Throwing it back to an old college piece with this one. This paid homage to Coles Phillips Fade Away Girls and Luis Royo
Product Height 12": 10.25in
Product Width 16": 18"
Product Surface Linen: illustration board

$700 $700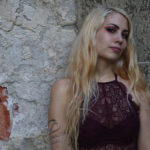 Alessandra Pisano
Alessandra is a fantasy illustrator out of CT. She only works traditionally, primarily in oils but also occasionally in FW inks and egg tempera. From a young ago she was always fascinated with fantasy worlds and that carried over into her art and has never stopped.
EXTENDED GALLERY
Beyond the every day, these are pieces a little bit more than our daily offering.