WANT TO BUY EARLY?
Unlock the Add To Cart button
30 minutes early
New beginnings
by KaitlundZupanic
New beginnings are unfolding, and they are being heralded in by none other than the Dragons that bear them.
This illustration was also started around the same time my previous 2 EDO pieces and had been sitting forgotten until a few weeks ago. "New Beginnings" is in the same series as "Serenity" and "Infinity".
9″ x 12″ mixed media, graphite, ink, and acrylic, on Strathmore 400 smooth bristol.
$275 $275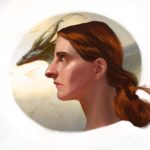 KaitlundZupanic
A fantasy illustrator of the dragon varaity.
EXTENDED GALLERY
Beyond the every day, these are pieces a little bit more than our daily offering.