WANT TO BUY EARLY?
Unlock 30 minutes early on our mailing list
Haloran
by greg ruth
This is an original, framed one of a kind graphite drawing of Haloran from my NYTimes bestselling graphic novel, THE LOST BOY from Scholastic/Graphix books. I did this piece as an early prep for the big climax scene at the end where the Vespertine's true name is revealed and Haloran cashes in all his chips to pay for the thing he has created.
The piece measures roughly 5×7″ and ships signed and framed.
$300 $300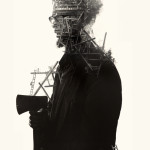 greg ruth
​Greg Ruth is a New York Times Bestselling Author of The Lost Boy and has worked making books and comics since 1993. He is published through The New York Times, DC Comics, Fantagraphics Books, Caliber Comics, Dark Horse, Harper Collins, Macmillan, Hyperion, Simon and Schuster, Random House, Slate, CNN, Penguin, and Tor. He has created two music videos for Prince and Rob Thomas, and has worked on nearly a dozen children's picture books including Our Enduring Spirit (with Barak Obama), Red Kite, Blue Kite (with Ji Li Jiang), A Pirate's Guide to First Grade ( and Recess) (both with James Preller), and his latest from Feiwel & Friends entitled Coming Home. His comics work includes Conan: Born on the Battlefield (with Kurt Busiek), Freaks of the Heartland (with Steve Niles), Sudden Gravity, The Matrix Comics and Goosebumps with R.L. Stine and is currently wrapping up (INDEH with Ethan Hawke). He lives and works in Western Massachusetts.