WANT TO BUY EARLY?
Unlock 30 minutes early on our mailing list
Grem the Weed-Puller
by Melissa Sue Stanley
All creatures in the Rockland and Ravine areas help in the gardens. The rooftop tea gardens were particularly tricky to care for – until the Grems took over. The Grems work with a strange, focused fury to clear large patches of weeds, and they're usually finished with most of the town by lunchtime. In exchange for their help, the Trolls give them buckets of Pod Ale – which appears to be the only thing they consume apart from some of the weeds they pull. Residents of the city to the east of the Ravine have tried to persuade the Grems to help in their gardens. Unfortunately for them, the Grems have no interest in weed-pulling anywhere outside of the Trolls' territory.
The Grem is a spot illustration for Chapter Two of the Woolbeast Forest Travel Guide – highlighting and mapping the best routes, including where to stay, who to visit, and what to eat.
Watercolor and gouache on paper, 5″x7″. Ships in 8″x10″ mat as shown.
$250 $250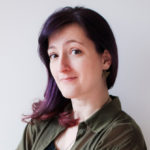 Melissa Sue Stanley
Lush green and blue landscapes of Midwestern summers are the heart of what inspires Melissa. Her work explores open fields and deep forests, finding small moments of magic and mystery hidden in the gardens and mossy environments. Her storytelling project, The Woolbeasts, discovers the denizens of these worlds.

The Woolbeasts are all hand-crafted in her "Treehouse Studio" in Chicago, Illinois. Melissa has been sewing, sculpting, and illustrating these creatures for fifteen years. They've been collected over the world and have been shown in galleries across the United States.