WANT TO BUY EARLY?
Unlock 30 minutes early on our mailing list
Forth the Banners
by Christopher Moeller
"Come, then, let us cast off fooling, and put by ease and rest,

For the CAUSE alone is worthy till the good days bring the best,

Come, join in the only battle wherein no man can fail,

Where whoso fadeth and dieth, yet his deed shall still prevail

Ah! come, cast off all fooling, for this, at least we know:

That the Dawn and the Day is coming, and forth the Banners go."
-from "The Day is Coming", by William Morris
Product Width: 5 inches
Product Height: 7 inches
Product Surface / Material: Primed Panel

$350 $350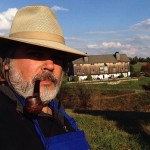 Christopher Moeller
For twenty-six years I used my art to build imaginary worlds, populated by fantastic creatures. More recently, my desire for invented worlds has given way, unexpectedly, to a love affair with this world. I am experimenting with new approaches, both in terms of subject matter and craft. I am developing my instinct for authenticity... for things with real power. I find myself drawn to landscapes, both outward and internal, that feel real. My paintings document a slow, often frustrating, recommitment to the fundamentals of art, and a reconnection to the human experience.