WANT TO BUY EARLY?
Unlock 30 minutes early on our mailing list
Angel of Tenderness
by Christopher Moeller
"I can't remember
ever saying the exact word, tenderness,
though she did. It's a word I see now
you must be older to use,
you must have experienced the absence of it
often enough to know what silk and deep balm it is
when at last it comes."
-from "Tenderness" by Stephen Dunn
This piece was originally commissioned as a part of the Angel Quest card set.
$400 $400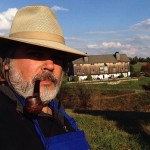 Christopher Moeller
For twenty-six years I used my art to build imaginary worlds, populated by fantastic creatures. More recently, my desire for invented worlds has given way, unexpectedly, to a love affair with this world. I am experimenting with new approaches, both in terms of subject matter and craft. I am developing my instinct for authenticity... for things with real power. I find myself drawn to landscapes, both outward and internal, that feel real. My paintings document a slow, often frustrating, recommitment to the fundamentals of art, and a reconnection to the human experience.