WANT TO BUY EARLY?
Unlock 30 minutes early on our mailing list
Despierta
by Dianita
"Wake up… Don't sleep… Despierta…
She repeated the words for ages, fearful of falling asleep. She couldn't move, she spent years watching the world moving around, new generations of butterflies visiting and shadows coming and going. She tried to move but her feet started to feel heavy again, she closed her eyes only to listen to her own voice urging her to wake up.
One day, she woke up. She could move, but the branches that grew from her body were gigantic now. Her skin was covered in bark, scars of the stillness and the heavy weight of what continued growing. But she was alive, looking up at the light that fed her hope every day. Others weren't so lucky and fell asleep because it was just too hard to move.
She welcomed a new generation of butterflies, coming and going as they do, but this time she was awake, she was alive."
This is a little piece and a story that came to be as a reminder of the times I wasn't feeling well, and the time when I could finally look up and enjoy life.
This piece was created with oils on paper. Mounted on a cradled board. It comes ready to hang with a lovely wooden frame.
The dimensions of the panel are 8in x 10in, framed it measures 9in x 11in.
Width: 10 in
Height: 8 in

$375 $375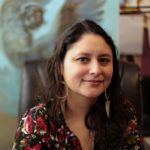 Dianita
Dianita is a fantasy artist born in Veracruz, Mexico. She has found that Fantasy provides her with the perfect language to portray her deepest emotions. It's where she finds freedom to explore fears, hopes and that wish for connection between all living creatures and our world.

Cover artist for Mermaids Monthly magazine (April 2021). Artist for "The Unbridled Spirit Tarot" (Llewellyn, 2024).