WANT TO BUY EARLY?
Our collectors get 30 minutes to buy before anyone else.
Councel With An Oracle
by Fian Arroyo
"Councel With An Oracle"  is a preliminary watercolor and ink study for a larger more involved future composition. Mystics, revelations and the harbingers who reveal them, was a thought I had that got the ball rolling for this one. I had originally drawn a version of this character in my sketchbook and decided to give it a life in color to help work out what I want to compose for the final painting to come. The image itself is approximately 6″x9″ in a standard 11″x14″ window matte.
Product Height 12": 9"
Product Width 16": 6 inches

$485 $485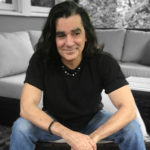 Fian Arroyo
Fian Arroyo is an illustrator/artist who breaths life into his character driven creations through the mediums of watercolor and ink.

His fantasy work has been recognized in Spectrum 22 and 26 as well as Infected By Art Volumes 4, 5, 7 and upcoming 8. His past commercial illustration work has been recognized by the Society Of Illustrators of Los Angeles and The Society Of Illustrators in NYC.

He lives in the mountains of North Carolina where he can play his electric guitars as loud as he wants…without disturbing his neighbors.



EXTENDED GALLERY
Beyond the every day, these are pieces a little bit more than our daily offering.