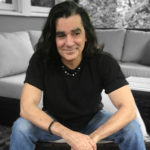 Fian Arroyo
Website | More EDOs
Fian Arroyo is an illustrator/artist who breaths life into his character driven creations through the mediums of watercolor and ink.

His fantasy work has been recognized in Spectrum 22 and 26 as well as Infected By Art Volumes 4, 5, 7 and upcoming 8. His past commercial illustration work has been recognized by the Society Of Illustrators of Los Angeles and The Society Of Illustrators in NYC.

He lives in the mountains of North Carolina where he can play his electric guitars as loud as he wants…without disturbing his neighbors.