WANT TO BUY EARLY?
Our collectors get 30 minutes to buy before anyone else.
Clearing
by Hilary Clarcq
It seems like I can never see very far ahead in my artistic journey. Instead, my view resembles a forest that's overgrown with uncertainty. Making each painting is a way to clear just enough space so that I can take the next step forward. And the next step after that.
This painting is a reflection on the need to create these clearings; to cut back at the invasive species of social media, website popup windows, and 10-step plans for success; to a maintain a space for creativity to breathe and grow.
Details: Oil paint over monoprint on paper, mounted on a 7/8" deep cradled panel with black edges. Ready to hang, unframed. Signed in lower left.
Width: 6"
Height: 8"

$400 $400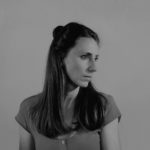 Hilary Clarcq
Hilary Clarcq is an illustrator and gallery artist. Her oil paintings often favor symbolism over literal narrative, and they tend to have a surreal or dreamlike quality. Her work has been recognized by Spectrum Fantastic Art, Illustration West, and Infected by Art. In 2019, she was one of three artists selected for the Muddy Colors Rising Stars Award. Hilary was born in upstate New York and currently lives in Boulder, Colorado.
EXTENDED GALLERY
Beyond the every day, these are pieces a little bit more than our daily offering.