WANT TO BUY EARLY?
Unlock the Add To Cart button
30 minutes early
Feather Center
by Hilary Clarcq
This oil painting evolved organically from one of the many abstract monoprints I've been making lately. I wanted to experiment with pressing different surfaces (string, feathers, paper, etc) onto the painting as another way to apply paint in addition to brushes.
I tried and failed a few times before getting a successful print from a large feather. In the end I really liked how the feather overlaps the figure's silhouette as a symbol of inner lightness and peace.
Details: Oil paint over monoprint on paper, mounted on a 7/8" deep cradled panel with black edges. Signed in lower left. Comes ready-to-hang in a beautiful gold and black "floater" frame.
Painting Width: 5"
Painting Height: 7"
Overall Framed Dimensions: ~ 7" wide x 9" tall x 2" deep

$375 $375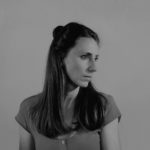 Hilary Clarcq
Hilary Clarcq is an illustrator and gallery artist. Her oil paintings often favor symbolism over literal narrative, and they tend to have a surreal or dreamlike quality. Her work has been recognized by Spectrum Fantastic Art, Illustration West, and Infected by Art. She was the recipient of the Muddy Colors Rising Stars Award in 2019 and the Jack Gaughan Award for Best Emerging Artist in 2021.
EXTENDED GALLERY
Beyond the every day, these are pieces a little bit more than our daily offering.