The Morning Ships
At morning they arrive, riding the early winds to the island.
–
5 x 7 inches
Mixed Media – Watercolor & archival inkjet on
Arches watercolor paper.
Matted & Framed.
$250 $250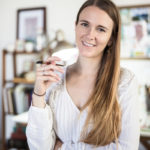 Naomi VanDoren
Naomi is a whimsical artist, author, and a wanderer at heart. Vibrant, natural themes of the outdoors and a love of travel and exploration saturate her work. Having grown up in the Spice Island of Indonesia, she pulls from the rich cultures of South East Asian and Oceana as further inspiration for her work.

Her art revolves around imaginative worlds and reflects a deep desire to explore not only the world she lives in but imaginative ones as well.

Naomi is currently based in Northern California.