Our mailing list gets early access every day.
Leptidoptera Somnibus
This specimen is part of my ongoing Paper Taxidermy series. It is created from layers of paper painted with acrylic ink. These pieces combine my love of illustration and 'curiosities', in order to make a painting come to life in small object form.
I also refer to the project as 'Aenthromology', a blend of insect forms with elements of the human body. I love the push and pull of subject matter we recoil from, only to look closer, only to recoil once more.
$200 $200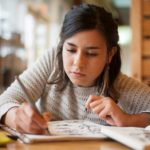 Elisa Sanchez