Our mailing list gets early access every day.
Guardian Stone
An addition to my developing foxdragon world and upcoming novels.
–
She closed her eyes momentarily as a soft breeze carried the heavy scents of the deep forest over the rolling hills, the rustling leaves overhead drowning out all else. She felt safe here, under the watchful eye of the great stone foxdragon. Father used to say they were a gift to her people, guardians of the lush lands in which they reside. The Ancients had left them here, and no one knew why.
–
6 x 8 inches
Mixed media – Watercolor & archival inkjet on
Saunders Waterford watercolor paper.
Matted & Framed
$325 $325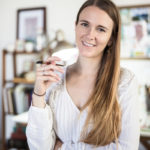 Naomi VanDoren
Naomi is a whimsical artist, author, and a wanderer at heart. Vibrant, natural themes of the outdoors and a love of travel and exploration saturate her work. Having grown up in the Spice Island of Indonesia, she pulls from the rich cultures of South East Asian and Oceana as further inspiration for her work.

Her art revolves around imaginative worlds and reflects a deep desire to explore not only the world she lives in but imaginative ones as well.

Naomi is currently based in Northern California.