Four of Wands
The Four of Wands stands for stability, harmony in the home, and maybe vigilance required to protect the things you care about. The plant I picked is Frigg's Grass, or lady's bedstraw – a plant that was used to stuff mattresses because it warded off many insects and was sacred to the Norse goddess Frigg, who was the goddess of the home and of spinning. Since I'm looking to create the Minor Arcana with special objects on each card as well as the flower, I wanted the spinning distaff to reflect the wands in this case!
(From Botanica, my series of paintings for an upcoming tarot deck featuring magical herbs and plants)
6x8x.5″, acrylic and ink on wood
$250 $250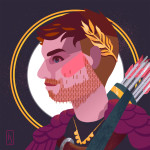 Kevin Jay Stanton
Freelance illustrator with a green thumb and an xacto knife.