Where you are, so there I'll be
by Sam Hogg
Where life breathes, so death beckons,
Where light blooms, so darkness encroaches,
Where morning breaks, so night shall follow.
Where you are, so there I'll be.
6 x 6 inches, mixed media (watercolor, ink, and colored pencil) on illustration board.
Framed to 10 x 10 inches.
Product Height: 6 inches
Product Width: 6 inches
Product Surface: Illustration board

$375 $375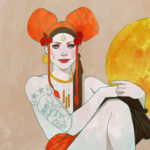 Sam Hogg
With a love of fantastical and narrative imagery, illustrator and concept artist Sam Hogg's career has spanned a multitude of genres across the entertainment industry. She has worked with clients such as Playground Games, Blizzard, Dark Horse Comics, Critical Role, Rocksteady and many more over the course of her 10-year career. Beyond her professional work, she can be found bringing her elegant, feminine aesthetic to a dark fantasy world of whalers and pirates in her personal project, The Whaler Girl.