The Reader
by Danny Schwartz
This painting started with a desire to use some deep reds. The drawing of an adventurer anxiously stealing a moment of peace sprouted surprisingly quickly.
When I was a kid, my brothers and I would steal precious moments of television or video games on weekdays before we finished our homework — a forbidden practice — when our parents would leave the house to run errands. Every time we'd hear a car door slam from any of the neighbors coming or going, we'd rush to the windows to see if our time was up. The end result was us enjoying our freedom but being constantly on edge about it. I imagine this guy feels the same way.
5″ by 7″, acrylic on illustration board, in a 10 x 12″ frame. Artwork comes fully framed.
Product Width: 5 inches
Product Height: 7 inches

$250 $250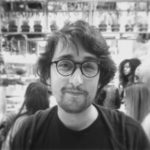 Danny Schwartz
Danny Schwartz is an illustrator, painter, and character designer living and working in Brooklyn, New York.

Other ways to support my work:
Print Shop: https://www.inprnt.com/gallery/dannyschwartzart/