The Hand of the Empress
by A.M.Sartor
Created for Month of Fear "Beauty" challenge.
Part of the tarot card "The Empress"
8×10″ framed to 9×12″
Ink, gouache, colored pencil, pastel on hot press watercolor paper
$200 $200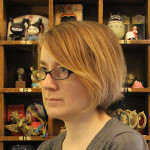 A.M.Sartor
A.M.Sartor is a freelance illustrator who resides in Seattle, WA. Her style is greatly influenced by works from the Golden Age of Illustration and contemporary pop surrealism. Her art is the result of over ten years experience in the entertainment and publishing industry, and is a mix between traditional and digital media. Although she is an illustrator, her focus is currently on gallery work and self-derived content. Her work has been featured in Spectrum, Beautiful Bizarre Magazine and SI-LA Illustration West.