WANT TO BUY EARLY?
Our collectors get 30 minutes to buy before anyone else.
Star Stroller
by Erika Taguchi
Acrylic gouache on watercolor paper
9×12 image size on watercolor paper (unframed)
Product Width 16": 12 inches
Product Height 12": 9"
Product Surface Linen: Watercolor Paper

$325 $325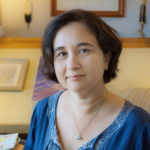 Erika Taguchi
Erika Taguchi-Newton is fine artist and illustrator, using traditional methods. By blending a unique style of delicate graphite work and many thin layers of acrylic paint, she achieves a dreamlike quality in her illustrations which explores nature, whimsy and storybook-like narrative.

Born in Japan, Erika lived in many different places from Germany to Washington D.C.. She graduated in 1994 from the Art Institute of Fort Lauderdale, and still calls South Florida her home.

website: erikataguchi.com | instagram: etaguchi | facebook: erikataguchi.art



EXTENDED GALLERY
Beyond the every day, these are pieces a little bit more than our daily offering.