WANT TO BUY EARLY?
Unlock 30 minutes early on our mailing list
Prophecy
by Kaitlund Zupanic
"Prophecy"
I've frequently played with the symbolism of the Ouroboros. The Ouroboros is a complex idea yet so simple to illustrate.
Everything is prophecized to end; that is the nature of life and the lifecycle. We continuously renew and revitalize ourselves as we move through exploring the world and fulfill the prophecy of the continuation of our spirit, energy, and memory.
"Ouroboros, emblematic serpent of ancient Egypt and Greece represented with its tail in its mouth, continually devouring itself and being reborn from itself. A gnostic and alchemical symbol, Ouroboros expresses the unity of all things, material and spiritual, which never disappear but perpetually change form in an eternal cycle of destruction and re-creation."  – Britanica.com
Prophecy is 6″x 9″ on arches oil paper. Signed with my Inkan stamp and signature on the back and marked with EDO and 2023.
Graphite, Acrylic, Copper pigment.
$175 $175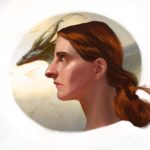 Kaitlund Zupanic
A fantasy illustrator of the dragon varaity.