Nine of Coins – Purple Saxifrage
The Nine of Coins represents the solitary enjoyment of the good things in life and of flourishing resilience. The plant I picked for this card is Purple Saxifrage, which grows in extreme conditions and is the flower that blooms at the highest latitudes on earth. The coins on it are Norwegian pennings, coins used by vikings who confidently traversed the icy waters of the Arctic. 
(From Botanica, my series of paintings for an upcoming tarot deck featuring magical herbs and plants)
6x8x.5″, acrylic and ink on wood
$250 $250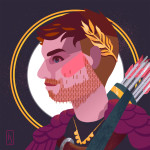 Kevin Jay Stanton
Freelance illustrator with a green thumb and an xacto knife.