WANT TO BUY EARLY?
Unlock the Add To Cart button
30 minutes early
The Mystic of Devonia
by Alan Pollack
I've created hundreds of artist proof sketches for fans over the years. This new original oil painting The Mystic of Devonia is one of many paintings to come inspired by one of those sketches. They have helped me to rediscover my passion for illustration. I'm heading down a different path rooted in fantasy, sci-fi and horror but with a quirky flair, a sense of humor an hints of surrealism.
This particular painting is more genre specific than most. It definitely has a steampunk slant to it. Rather than go with the standard goggles I leaned towards a more bug-like appearance.
Be careful what you wish for when dealing with this trickster. He can grant you any wish. Fulfill any desire, but for what price? Those in his inner circle are loyal to a fault…. but can he truly be trusted? Part man, part insect, all wizard. Beware the Mystic of Devonia!
$500 $500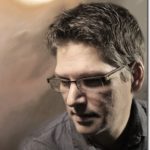 Alan Pollack
Alan Pollack was born in New Jersey in 1964. Influenced at an early age by artists such as Frank Frazetta and Boris Vallejo, Alan knew that fantasy/sci-fi illustration would be his career of choice.
After graduating from high school, he studied at several colleges in NYC including the School of Visual Arts, Parsons School of Design, and the New School of Figurative Art.
In his early twenties, Alan worked part-time as a silk screener and a photo retoucher while continuing to build his portfolio. In 1991, Alan was assigned his first cover illustration for Dungeon magazine with T.S.R Inc.
He then found an agent in NYC, but shortly thereafter, was offered a staff position at T.S.R Inc. where he spent the next few years surrounded by great artists while honing his skills.
Since then, Alan has worked for many of the industries gaming companies, including Wizards of the Coast and Blizzard Entertainment , and has graced the covers of most of the leading book publishers in this country, including Harper/Collins, Daw Books, Del-Rey, Baen Books, Tor Books, ROC and the Science Fiction Book Club.
Alan has also had the honor of being chosen as the cover artist for Spectrum, an illustration annual which focuses on the year's best science fiction and fantasy art.
In 2015, Alan was one of the top five nominees chosen for the Hugo award for Best Professional Artist.
To see more, visit his website at: http://www.alanpollack.com/
To further support Alan, follow these links:
Store- http://www.alanpollack.com/store
PATREON- http://www.patreon.com/alanpollack



EXTENDED GALLERY
Beyond the every day, these are pieces a little bit more than our daily offering.