WANT TO BUY EARLY?
Our collectors get 30 minutes to buy before anyone else.
Mystic Birth
by Steven Black
8.5″x11″
Prismacolor on toned paper
$100
[podloveaudio mp3="https://everydayoriginal.com/podcasts/everydayoriginal-ep-001-steven-russell-black.mp3″ poster="https://everydayoriginal.com/podcasts/everydayoriginal_podcast.jpg" width="300″]
$100 $100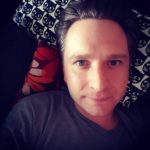 Steven Black
Painter with an obsessive compulsion to champion the odd, fringe, or otherwise unappreciated.
For commissions or questions:
email: shapess@gmail.com



EXTENDED GALLERY
Beyond the every day, these are pieces a little bit more than our daily offering.