WANT TO BUY EARLY?
Our collectors get 30 minutes to buy before anyone else.
Money For The Boatman
by Steven Black
Money For The Boatman
© Steven Russell Black
11″x17″ Prismacolor on toned paper
I'm fascinated with the story of the boatman and the ritual of the coins.
In this depiction she didn't make it to the boatman. Lost coins to the eels.
$195 $195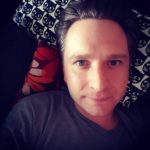 Steven Black
Painter with an obsessive compulsion to champion the odd, fringe, or otherwise unappreciated.
For commissions or questions:
email: shapess@gmail.com



EXTENDED GALLERY
Beyond the every day, these are pieces a little bit more than our daily offering.