WANT TO BUY EARLY?
Our collectors get 30 minutes to buy before anyone else.
Metáfora
by BabsWebb
Drawn with powdered graphite on bristol with white acrylic highlights.
Comes matted and made to fit within an 8×8 frame.
Height: 4 inches
Width: 4 inches
Surface: 100 lb. Bristol Paper

$230 $230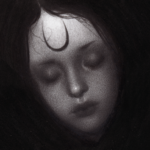 BabsWebb
Babs Webb is a Colorado-based dark fantasy artist with an affinity for the occult. Through strongly symbolic visuals, she strives to convey the visceral emotions that push the boundaries of our humanity; a shrewd clash of psychology and fantasy.
EXTENDED GALLERY
Beyond the every day, these are pieces a little bit more than our daily offering.