WANT TO BUY EARLY?
Unlock the Add To Cart button
30 minutes early
Jorinda and Jorindel
by Ashly Lovett
A recent concept sketch for the story Jorinda and Jorindel, which will be featured in my next Kickstarter book "The Book of Fairy Tales." Learn more here.
"There was once an old castle, that stood in the middle of a deep gloomy wood, and in the castle lived an old fairy that could take any shape she pleased. She flew about in the form of an owl, or crept about the country like a cat; but at night she always became an old woman again. When any pretty maiden or handsome young man came within her domain they were changed into a bird, put into a cage, and hung in a chamber in the castle. There were seven hundred cages hung in the castle, and all with beautiful birds in them."
Drawing size: 5×7
Mat size: 8×10
Unframed
Graphite on Strathmore Paper
$500 $500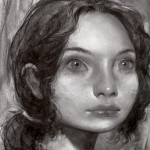 Ashly Lovett
Ashly Lovett is a freelance illustrator and gallery artist working primarily with chalk pastel for the horror and fantasy genre. She is known for her illustrative portraiture with romanticism undertones. She has done licensed work for Jim Henson Company, Adult Swim, Netflix, Focus Features, Archie Comics, and Monty Python, etc. She received her BA in illustration from Ringling College of Art and Design and has been published in Spectrum Fantasy Art Annual 22-27, Society of Illustrators of Los Angeles, Infected by Art Vol 5-7, and more. Clients include Boom! Publishing, Lindstrom LLC., Hackle TV, ArtOrder, etc.
EXTENDED GALLERY
Beyond the every day, these are pieces a little bit more than our daily offering.