WANT TO BUY EARLY?
Unlock 30 minutes early on our mailing list
It's Only a Dream, It's Only a Dream…
by Max Martelli
Surely it isn't weird to dream about an owl.
True, it's not very common to see them in person, but out here, when the sun goes down and the temperature drops in late October, you can hear them all the time, out in the trees. Challenging the darkness with their inquisitive calls. That's part of the reason we moved out here, my wife and I. To be out where the owls ruled the night; out where there is a clear sense that civilization exists within the forest vs the opposite. We could never quite stand those cities or towns that walled up their wilderness into a "preserve" and shut it away.
Surely it isn't weird to dream about an owl staring at you through your bedroom window.
Unblinking. For what feels like hours. Wondering whether your wife is still sleeping next to you in bed, fully expecting her to wake up and whisper "it's only a dream, it's only a dream", the comforting warmth of her hand caressing your back. But then you remember that she's not here, and she's not coming back… so you continue to lie there, staring, unable to move any part of your body through the dream mire that always keeps you from getting up and running away at that crucial moment.
And surely it isn't weird that there is, in fact, no tree growing close enough to the house for an owl to be sitting on to stare into that window in the first place.
But now… now the owl is inside the room, at the foot of my bed, and it is weird.
The room shifts and almost dances around it and I feel like I am drugged. My certainty that this is a dream blows away with the steady flow of cool night air chilling my toes from the open window, though… the window isn't open. I take a deep breath and exhale, watching the soft fog of my breath join the haze slowly building in the room. I try to call out but I am mute. I try to sit up but I still can't move. The owl continues to stare. As our gazes meet and my eyes widen with an ever-increasing panic, the owl stretches out it's wings and then opens its beak to whisper… "it's only a dream, it's only a dream"
___
"It's Only a Dream, It's Only a Dream…" is an acrylic painting on watercolor paper and measures 8×10 inches. It will be shipped in an 11×14 black mat with a white core. This can easily fit into any ready made or custom 11×14 frame with glass. It will be sold and shipped without a frame as this owl obviously cannot be contained by mere glass.
Product Height: 10"
Product Width: 8"

$300 $300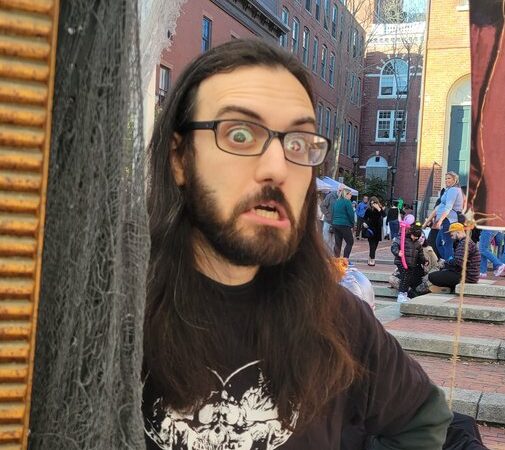 Max Martelli
Max Martelli is an author and artist exploring the realms of both classic and cosmic horror. Painting with a range of media from oil and acrylic to digital, he has been working independently since his graduation from the New England School of Art and Design in 2011.

Max is currently writing and illustrating a number of short horror stories, the first of which, "MUMMY.", is being featured through Patreon.

His dark tale "The Dreamers" is due out in the Reckless Deck "Psyche" Short Story Anthology, and he has just released his illustrated edition of "Pickman's Model" by H.P. Lovecraft.