Irideae
by Corinne Reid
Combining classical botanical illustration with anatomical macabre, this piece depicts a humorous play on words while exploring the similarities between human and nature.
Product Height: 5.5"
Product Width: 5.5"
Product Surface: 100% cotton watercolor paper
Frame: Unframed

$200 $200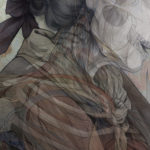 Corinne Reid
Corinne Reid is an Illustrator and designer specializing in publishing, editorial and fine art. Delving into the unknown, she uses unconventional imagery to cultivate emotional connections with her audience. Her paintings adopt a narrative melody with accentuating tones of the natural world. Her work is award winning, globally recognized and travels more than she ever will, making its way to Australia, Europe, and across North America.