Fox and Foxglove
by Danny Schwartz
I love playing with the relationship between 2D and 3D elements in my work, particularly when it comes to landscapes. Lately I've been on sort of a spree of more rendered paintings with fewer 2D, abstracted elements. But with this painting I swung back hard in the other direction, and it was a lot of fun to piece everything together like a little paper diorama.
7.5 x 7.5 inches acrylic on illustration board, 12 by 12 inches framed.
Product Width 16": 7.5"
Product Height 12": 7.5"

$300 $300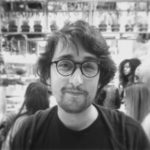 Danny Schwartz
Danny Schwartz is an illustrator, painter, and character designer living and working in Brooklyn, New York.

Other ways to support my work:
Print Shop: https://www.inprnt.com/gallery/dannyschwartzart/