WANT TO BUY EARLY?
Unlock the Add To Cart button
30 minutes early
Currents
by Christine Rhee
We go with the flow, against the flow, ride and struggle with it.
We grow with it, it changes us.
Sometimes we change colors, sometimes the currents change because of us.
The process is beautiful and ever-changing, and so are we.
Graphite and gold paint on watercolor paper, mounted on 4″ gessoed coaster, sealed with resin.
$125 $125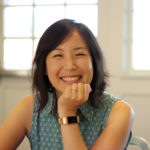 Christine Rhee
Christine Rhee was born in Seoul, South Korea and grew up in different parts of Southern California and Seoul. She lives and works in San Francisco.

Her work focuses on moments of survival, thriving, and transformation, and how those moments take on a mythic quality in both our own personal stories and in allegory.

Christine feels honored to have had her work selected for Infected by Art, 3 x 3 Magazine, the Society of Illustrators of Los Angeles, Creative Quarterly, and the Communication Arts 2018 Illustration Competition shortlist. She is also a 2018 Chesley Award finalist and a 2018 Illustrators of the Future winner.

Check here for more of Christine's originals and prints for sale:

https://www.christinerhee.com/store



EXTENDED GALLERY
Beyond the every day, these are pieces a little bit more than our daily offering.