WANT TO BUY EARLY?
Unlock the Add To Cart button
30 minutes early
Alice in Wonderland
by Brianna Angelakis
Every year, I make at least one art piece inspired by Alice's Adventures in Wonderland. This is my first rendition of Alice in 2019.
The work is graphite, ink, watercolor, and gold leaf on coffee stained paper.
Drawing size: 9″ x 12″
It is sold matted and framed as pictured and ready to hang.
Height: 12 inches
Width: 9 inches
Media: graphite, ink, watercolor, and gold leaf on coffee stained paper

$290 $290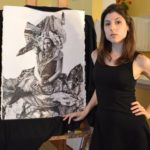 Brianna Angelakis
Brianna Angelakis was born in Massachusetts in 1990. Growing up in New England, she moved to Florida in her late teen years. In 2013, she graduated summa cum laude from Flagler College in St. Augustine, FL, with a BFA in Fine Arts, a BA in English, and a minor in Illustration. In 2017, she graduated from the University of Florida in Gainesville, FL, with her MFA in Art, with a concentration in Painting and Drawing. She currently lives and works in Clermont, FL, with her husband (artist, Peter Palfi) and cockapoo puppy (Enzo).

Her work has been published by Hi-Fructose, Manifest INDA, Manifest INPA, PoetsArtists Magazine, Professional Artist Magazine, Infected by Art, Creative Quarterly, and BOOOOOOOM. She has exhibited her work both nationally and internationally in cities including New York, NY; Los Angeles, CA; San Francisco, CA; Chicago, IL; Cincinnati, OH; and Frankfurt, Germany.

Gallery Representation: Every Day Original x Artsy
Artist-in-Residence: Manifest Gallery, Cincinnati, OH | 2017-18
Member: beinArt Collective
Collections: 21c Museum Hotel, Hector Puig Collection, numerous private collections

Other ways to support her work
Etsy: https://www.etsy.com/shop/BriannaAngelakis
Print Shop: https://society6.com/briannaangelakis



EXTENDED GALLERY
Beyond the every day, these are pieces a little bit more than our daily offering.