WANT TO BUY EARLY?
Unlock 30 minutes early on our mailing list
You look prettier when you're silent
by Dianita
It's a common phrase almost every women in my close circles have heard. In families, relationships, in workplaces and it's mistakenly perceived as an advice, because they "love you". I don't know other friends, but for me… That phrase dries me from the inside. It makes me feel powerless, it used to take away my power away from me until I stop believing in myself. It makes me feel that I'll explode as I'm containing everything I am.
I created this drawing for Month of Love in 2020. Interpreting "Silence" wasn't easy. It's very personal to me as I've learned to believe in my voice as time goes by. And watching others breaking from it has been humbling. It's also the first piece I created for my series of Gorgons, which are really close to my heart. Of the 3 drawings, one found a loving home with a friend, and the last one lives with me. You can find a painting based on the third drawing on my Beyond the Every Day page too ("Innocence"). And a more recent drawing of this series in my gallery.
This drawing might not turn into a painting in the future. I feel that the "what if" resonates well with the theme: The person that we will not become if we keep silencing our voice.
It has taught me never to drown my voice again, not for anyone else.
Graphite on moleskine page
5in x 8in
This piece comes with a dark grey mat to a size of 8in x 10in. I'm not including a frame.
International friends: Please be aware that you might need to pay applicable customs fees in your country to receive this package.
$250 $250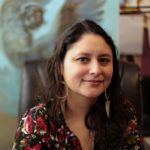 Dianita
Dianita is a fantasy artist born in Veracruz, Mexico. She has found that Fantasy provides her with the perfect language to portray her deepest emotions. It's where she finds freedom to explore fears, hopes and that wish for connection between all living creatures and our world.

Cover artist for Mermaids Monthly magazine (April 2021). Artist for "The Unbridled Spirit Tarot" (Llewellyn, 2024).