Blood Bolt Brigade
by Xavier Ortiz
Blood Bolt Brigade
This painting was done with watercolor and gouache and is from a series of paintings I've been developing that takes place in world plagued by spiritual warfare between the light and dark.
9″x12″  Matted to 11″x14″
STORY: These three vampires are a special militant team sent to hunt unique individuals or to disrupt enemy plans. They are highly skilled, vicious and relentless. It is still unknown who sends them.
$325 $325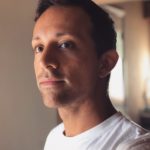 Xavier Ortiz
Xavier is a watercolor artist from Sacramento, California. He studied classic animation at the Academy of Art University in San Francisco. His paintings are influenced by old folktales and the occult. He has done several album art designs for various indie musicians, as well as some illustrations for Sideshow Collectibles' Court of the Dead. This year he is participating in various group shows put on by WOW X WOW and a group show at Modern Eden in San Francisco. Xavier balances his art with his stay at home dad duties to his two young boys, Vincent and Oz. His originals can be found at on his online store (Etsy), WOWxWOW, and newly here on EDO.

Other ways to support me:
Etsy Shop: https://www.etsy.com/shop/BUILTFROMSKETCH
Instagram: https://www.instagram.com/builtfromsketch/
Facebook: https://www.facebook.com/BUILTFROMSKETCH/
Patreon: https://www.patreon.com/BUILTFROMSKETCH
Portfolio Website: https://xavierortiz.carbonmade.com