WANT TO BUY EARLY?
Unlock 30 minutes early on our mailing list
Winter's Light
by Amelia Leonards
Doorways to Otherworlds exist in many cultures and mythic cycles, but the passages to the Realm of Annwn in the Celtic tradition are my favorite.  There are at least two schools of thought concerning them, both delightful. The first claims that there was once a doorway in a rock by the side of a lake that we could pass through on a certain day of the year. Evidently, one year things got a bit wild, and we wore out our welcome.  The other school claims that doorways are everywhere, and we need only patience and belief to see them.   Stags and owls pass freely between our realm and Otherworlds, so I'm inclined to entertain both possibilities.
Some say that the Otherworld is the opposite of our world in odd ways.  They say that a person travelling from one to the other on a bright summer's day would suddenly find themselves wandering a silent, snow bound winter's night.  Sunlight to moonlight, scudding clouds to stars flashing like diamonds on dark velvet. . .
Imagine a gleam of sunlight peeping from the trunk of an old weathered beech tree on an icy, gray January twilight, and the sudden scent of soft, faint flowers and sweet fern on the frigid air.  Imagine that a doorway appears slowly, slowly, unfurling and uncurling in the gathering dusk.
Would you go inside?
Just like the owls I painted last year, this piece looks amazing in a gold frame, BUT will be sold and shipped in a white mat.  Why?  Two reasons: A- maybe our frame tastes are WILDLY different, and you'd like to pick your own, and B- the owls have an easier time flying to you without glass.  Glass makes them nervous.
Watercolor on 140lb Cold Press
Image size: 7.5 X 9.5″
Mat size: 11 X 14″
Product Width: 7.5"
Product Height: 9.5 inches
Product Surface / Material: 140 lb Cold Press

$375 $375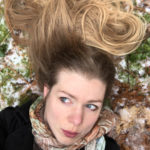 Amelia Leonards
Amelia Royce Leonards is a graduate of Montserrat College of Art in Beverly, where she spent four years baffling her peers and professors with drawings of goddesses and antlered women. Her work is influenced by the beauty of ancient myth, folklore, and the natural world around us. She can usually be found somewhere deep in the woods, sketching odd creatures and eating chocolate chips.