WANT TO BUY EARLY?
Unlock 30 minutes early on our mailing list
Where unicorns rest
by Dianita
"There's a place far up the mountains where the unicorns rest. Where Seasons meet, between day and night. If you arrive in the perfect moment, you might be able to see them stretching. Perhaps they'll let you come closer and play. But mostly, they just want to rest after a day, whatever that means in unicorn's time.
Lie down, get comfortable and prepare to stay a long time. You don't want to wake them up, right?
But most of all, be in peace. Stop for a while and look around. Time doesn't mean anything when you're there. You're going to sleep with the unicorns for a bit, what's more important than that?"
A slumber party! That was my inspiration for this painting. I wanted to paint something sweet, relaxing like a sleeping date with a couple of cute unicorns. It's fair after a roller coaster of a year, there's space to rest and to just exist. I hope this painting becomes a reminder of that for you.
This painting measures 8in x 10in. Frame included. It was made with oils on paper, mounted on board.
Please, allow 2-3 days to prepare the painting for shipping. International customers will need to pay custom fees in their country to receive the package, please consider this before purchasing. Holiday shipping times can be messy, please have this in mind. Thank you!
Size: 8in x10in

$500 $500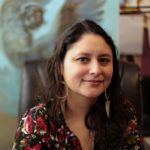 Dianita
Dianita is a fantasy artist born in Veracruz, Mexico, currently living in Texas, and member of the Mexicanx Initiative (2018). She has found that Fantasy provides her with the perfect language to portray her deepest emotions. It's where she finds freedom to explore fears, hopes and that wish for connection between all living creatures and our world.

Cover artist for Mermaids Monthly magazine (April 2021). Artist for "The Unbridled Spirit Tarot" (Llewellyn, 2024).