Waves Pt. 6
by M'fanwy Dean
Tiny chisels were used to hand carve this crashing wave design into a painted maple panel.
3″ x 3″ Hand Carved 3/4″ thick Maple Panel with Sawtooth Hanger.
Product Height: 3"
Product Width: 3"

$160 $160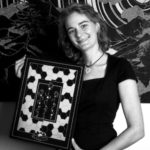 M'fanwy Dean
M'fanwy Dean is an Artist and Graphic Designer living in Alaska, she uses tiny chisels to hand carve intricate designs into painted wood panels.