WANT TO BUY EARLY?
Unlock the Add To Cart button
30 minutes early
Watchful Knight
by HopeDoe
I recently discovered that Icelandic folklore includes a Yule Cat as a part of their traditions.  This painting is loosely based on the Yule Cat. Instead of the kitty eating children who do not get a new piece of clothing for Christmas, this kitty has a protecting watchful eye over the solidarity of this little household.
6″ by 8″ sumi ink, liquid acrylics and silver leaf on Arches watercolor paper. Fully framed. Frame is 9″ by 11″ Note: Frame includes UV protection glass but is not shown in the picture.
length: 5.8"
height: 8.3
surface: Arches Hotpress Watercolor Paper

$390 $390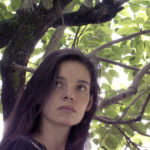 HopeDoe
Hope is an American artist currently residing in Mie, Japan. With her interests in Japanese traditional arts and growing up in a western culture, she creates a unique blend of the two influences. Her work has a strong sense of narrative, which contains a tinge of mystery and the unknown. Her artwork is often molds humanity with the natural world giving the sense that humanity is one in the same, and shouldn't be a separate entity.

Her work contains a variety of mixed media, including sumi, graphite, oils, and watercolors.



EXTENDED GALLERY
Beyond the every day, these are pieces a little bit more than our daily offering.